"My family and I founded Faithway in 2014 after being called of God to surrender everything in our lives to follow him 100%. The journey has been daunting at times, but has been the greatest journey of our lives. We've made so many friends along the way and are looking forward to making a difference in so many other lives to come!"
We came to Faithway in 2015, during that time, Chris worked the weekend shift so we attended the Wednesday evening service. On Sunday's the kids and I attended a church closer to home where I had went all my life. We did this for a while but fell away from Faithway. Fast forward to 2019, when we knew God was calling us back in a strong way. We came the Sunday before Easter and haven't turned back. In that time, we have grown and been taught so much more than we ever have in our entire Christian walk. Our children love their church and have made great friends all while being taught about the word of God. We will ever be grateful for the call back to Faithway and the Biblical leadership of the church.
God's timing is always perfect. When two wondering souls were trying to seek out their plan and purpose for their lives, God directed them to Faithway. There, they found Jesus! They found community and fellowship without judgement. Little did they know that in just a few short years, their lives would be forever changed and would need a prayerful pastor and church family. Which was and has been found at Faithway!
"A good friend & big member of the church, Adam, introduced me to Faithway when I shared with him that I felt I was straying away from religion. From the first step I took into Faithway I was welcomed and felt wrapped in the arms of the Lord. This became the church that I brought many friends and family to. I was saved here, I was baptized here, and I know I have everlasting love and family here. Not to mention that Faithway was my daughter's first church experience and she fell IN LOVE!! We love Faithway Baptist Church "
"Tom went church shopping for a church. There was no one that preached from the Bible, that believed you must be born again, and that loved kids and had classes for them. I have never been in our church when I haven't felt Gods presence with us. The three of us have learned so much and as everyone knows I love everyone there. Our Pastor and Staff are top notch along with all our congregation."
"Larry & I visited a few times before Easter about three years ago. When Kevin said he was going to preach a bout the "God Fast" & I realized we had never heard this message, we decided we had to stay. We are never disappointed with Pastor Kevin's sermons even when he is preaching directly to us, lol. He preaches straight from the Bible & knows it well. Larry & I study together every evening now because of the encouragement we have received from him & the disciple groups he started. Come visit a few times and you just might want to stay like we did. God Bless!"
"Our family came to visit Faithway for the first time in December 2018. We didn't know exactly what we were missing in our Christian walk, we just knew God had more for us. Right away we saw that Pastor Kevin had a zeal for God, the gospel, the community and the desire to bring people into the fold. After a couple of visits we saw that he led with truth and love NOT condemnation. Best of all they had a youth program and youth minister that was/is giving his life to creating God focused events but with fun thrown in the mix. Our young people need that and so did our own teen. Joining Faithway has been the best decision, aside from accepting Christ, that we could have made. "
"After a decade of not attending church it was hard to one we felt comfortable in. I was shocked to see how much some churches had changed. After sharing my dilemma with a cousin in Idaho, she found Faithway on the Internet and recommended it based on the articles of faith, "What We Believe". At first visit I knew this would be our new church home. If you are looking for a church where you can grow in grace, and in the knowledge of our Lord and Savior Jesus Christ, we would love to grow with you here at Faithway!"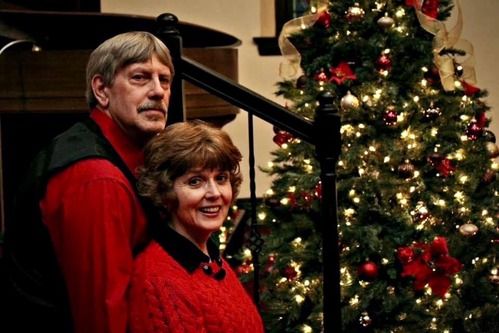 "We found Faithway Baptist Church while looking for a church that could feed the soul. All of our other churches we attended will still be in our hearts as our family in Christ. Our first time visiting we sat in the back row to hear the message. Our second Sunday we sat in the front row to be closer to message Pastor Kevin preached. We found our church home and saw some friends attending also that we had not seen in awhile. Love the word that is read from King James Bible! Love being able to participate in the worship music group led by Ty Jameson! As a church, we always look forward, never back. Anything is possible with the Lord our God, if we follow Jesus and let him lead! "